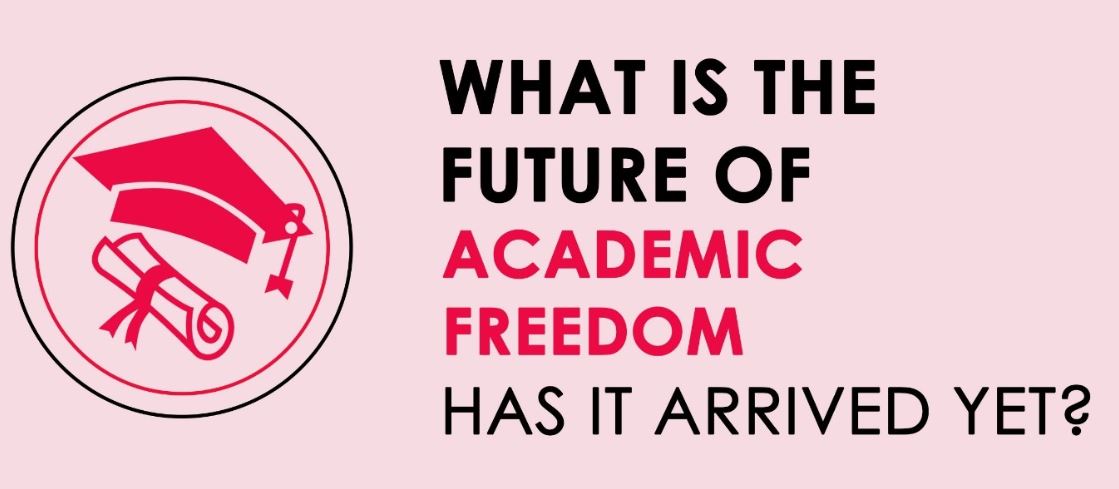 WHAT IS THE FUTURE OF ACADEMIC FREEDOM
Academic freedom, critical to American higher education's well-being, is under pressure on a range of fronts.
The threats to academic freedom have intensified in the aftermath of the 2016 elections. Higher education has become the focus of conservative attacks, and freedom of expression on campus has become increasingly contentious.
Academic freedom encourages leaders of higher education institutions to participate in academic practices without fear of censorship or retribution, which is at the heart of the mission of the university. In recent years, increasing questions about the threat to academic freedom has been raised, many of which have been triggered by evolving university norms (and demands). A wide variety of new subjects, including alerts about advertising, safe spaces, social media controversy, micro-aggression.
Even without platforms: they have contributed to loud cries that academic freedom is being seriously violated in both the educational even mainstream contexts.
WHAT DOES ACADEMIC FREEDOM MEAN?
Academic freedom can be challenging to define precisely. It is widely recognized as the freedom of academics:
To teach and discuss; Conduct research and publish and publicize the results; Freely express opinions about the academic institution or academic system in which they work; Participate in professional or representative academic organizations; Not be censored.
Academic freedom means teachers and students can participate without fear of censorship or retaliation in the intellectual debate.
Academic freedom provides for a faculty member's right to remain faithful to his philosophy of education and intellectual commitment. It preserves our educational system's intellectual integrity, and thus serves the common good.
Academic freedom in the classroom ensures that both the teachers and the students can make connections and correlations between the topics taught in a course and any field of human experience or time of history.
Academic freedom gives students and faculty the ability to express their views in language, writing and electronic communication, both on and off-campus, without fear of penalties, unless it is a violation of the rights of others, or in the case of faculty members, those views mean that they are technically ignorant, incompetent or deceptive in their discipline or sub-discipline
Academic freedom allows students and faculty to study and report on the subjects they choose and draw conclusions that they find consistent with their findings. However, this does not preclude others from determining whether their analysis is essential, and their conclusions are valid. Universities must withstand efforts by corporate or government sponsors to block the dissemination of research results to protect academic freedom.
Academic freedom means that politicians, administrators, and public members can't impose their political, religious, or philosophical beliefs on students or teachers.
Academic freedom provides the right to appeal or be heard to faculty members and students if they feel their rights have been violated.
Academic freedom offers safeguards from discrimination for teachers and students if they disagree with administration policies or proposals.
Academic freedom gives students and faculty members the right to challenge one another but not to punish them for keeping them.
Academic freedom preserves the right of a faculty member to give grades to students, as long as they are not moody or unjustly punished. In general, academic freedom includes both the right to uphold academic integrity, personally and institutionally.
Academic freedom offers tremendous flexibility for faculty members to choose whether to teach the courses for which they are responsible.
Academic freedom guarantees the hearing of pressing charges against a faculty member in front of his colleagues' committee. It gives the right to a due process to faculty members, with the presumption that the burden of proof is on those who sued the faculty with the right to provide evidence to the contrary and challenge their accusers and, if chosen, to have legal counsel in severe cases.
WHAT ACADEMIC FREEDOM ISN'T
Academic freedom doesn't mean a faculty member can stalk, abuse, bully, mock, or force students.
The academic freedom of the students does not deny members of the faculty the opportunity to oblige students to learn the materials of their courses and the fundamentals of their teaching.
No academic freedom or time in office protects an incompetent professor against losing his job. Academic freedom does, therefore, not guarantee without reservation a lifetime job guarantee.
Academic freedom does not defend faculty members against a colleague or student's problems or disputes with their philosophy and education.
Under the law, freedom from academia does not protect faculty members against non-university sanctions.
Academic freedom does not give university or college students the right to disregard the rules of university or university. However, it offers faculties and students the right to criticize unfair regulations.
Academic freedom does not protect students or teachers but requires fair treatment and a proper process.
Academic freedom does not shield faculty members from professional misconduct fines, while sanctions require clear proof that can be demonstrated by proper practice.
No academic liberty and no tenure protect a faculty member against various penalties, against a refusal of increased earnings, against the denial of sabbatical applications, against loss of desirable teaching jobs and of low-performance committees. Although such sanctions are governed by local conventions and manual faculties, the penalties must be wrong if fewer. A sufficient audience must follow them if they are relevant.
Neither academic freedom nor tenure safeguards a professor who repeatedly skips classes or refuses to teach subjects.
Although a short interruption of a guest speaker is compatible with academic freedom, a lecture or lecture cannot be prevented.
Academic freedom doesn't protect a faculty member from investigation or reasonable sanctions if such charges are confirmed in the file negotiations with the faculty chosen or the claims of scientific misconduct or violations of sound university policies.
THE FUTURE OF ACADEMIC FREEDOM
Academic freedom was recognized as a core characteristic of the academic career and as one of its fundamental values. Academic freedom has been associated in the European tradition with the free choice of subjects, concepts, methods, and sources in teaching and research as well as the right of academic staff to make contributions following standards and rules. The Academic Community itself was established. In the American tradition, this definition of academic freedom has been complemented by concerns about academics' political and civil liberties that interpret their position in a broader sense than universities and colleges.
Academic freedom was also seen as a vital requirement for achieving multiple objectives: knowledge enhancement, research quality (as the subject of academic work), initiative promotion and support, creative behavior, criticism, and diversity. Academic freedom also has a secure connection to professional self-sufficiency, as it concerns the freedom of individual academics to follow the truth without fear of negative punishment or restriction on their part by the religious or political authorities and their freedom to organize your task, determine research goals and pedagogic priorities to set standards and standards of evaluation.
RESTRICTIONS ON ACADEMIC FREEDOM AND INSTITUTIONAL AUTONOMY
In the recent past, diverse barriers and ongoing processes within higher education institutions have challenged academic freedom. This includes financial resources, red tape, overloading academics with administrative tasks, and internal governance. Lack of sufficient public funding, particularly for public universities, is a significant barrier to higher education growth and an indirect obstacle to academic freedom. The enemy of free research and knowledge production is, in fact, survival concerns. Another grave challenge that undermines academic freedom and institutional autonomy is bureaucratic bottlenecks. This autonomy is incorporated into national accountability systems, the primary objective being to promote confidence between universities and the state or society. Official legislation establishes frameworks and areas of accountability for academic governance in public institutions of higher education. Governments have moved from more direct control to a more remote management system that appears to provide autonomy and accountability to higher education institutions at the same time.
It has a significant effect on the quality of its intellectual product on academic overload with administrative tasks. As the universities became part of academics' professional role, they also included other functions, often in the name of efficiency, such as administration. Such additional requirements exhaust the available time and energy for the production of teaching, research, and knowledge. They are now part of the public life and political mainstream. "There are other remote management devices that measure the performance of institutions of higher education. Public universities are funded to cover several forms of institution-setting expenses. The government requires the preparation of annual financial reports and compliance with the audit procedures, which are regularly submitted to the authorities.
What's the future like? What can we be expecting from the future of academic freedom?
THE FUTURE IS HERE AND HERE ARE THE SIGNS
IMMERSIVE EXPERIENCE OF STUDYING IS NO LONGER AN ASSET, BUT A REQUIREMENT.
A physical or virtual learning environment's intensity stimulates and accelerates learning in ways that traditional learning methods sometimes cannot. The reality of an academic world with rapidly evolving technology has become a reality in the last two decades. Such learning environments change education, facilitating student-centered learning, and pioneering research on online.
The Education Lab is an innovative laboratory focusing on applied training and the redefinition of education mandate. It aims to reinvent the way it teaches by incorporating state-of-the-art technologies and the latest scientific developments while at the same time offering world-class curriculum technologies exposure to the scientific community.
IT BECOMES THE NORM TO COMBINE TRADITIONAL AND NON-TRADITIONAL TEACHING METHODS
According to the UNESCO Center for Statistics, an additional 120 million people will complete higher education by 2030, including 2.3 million overseas. As a result, universities and business schools offer a more extensive range of courses than before to enable students to study at a time and pace that suits them. This is especially important when considering how many more students will begin training while balancing family life, career, or both.
The University of Palermo, which offers a range of online, on-campus, and blended classes, is one institution that does so. Students will pick how many online courses and how many on-campus courses they take each semester with the study choices varying from blended learning, incorporating all modalities. That ensures you will spend your first year of study on campus before transferring to a partner institution for a semester abroad and finishing your degree online.
CROSS BOUNDARIES AND ACHIEVE WORLDWIDE RECOGNITION
As we have already noticed, more and more future students are looking to live abroad. As a result, higher education institutions worldwide tend to develop secure official connections and alliances to promote international student-faculty connections with other top-notch universities and business schools.
Thus, it becomes much easier to travel abroad for education and work. MBA students at the University of Palermo have the opportunity to take part in a foreign exchange program. So if you're taking part in an exchange program, studying a semester abroad or graduating from an entirely new country, you can experience, mix and work with a large number of people from different backgrounds, cultures, races, and religions to live in.
This international opportunity can enrich your learning experience and help you understand and appreciate others who can help you prepare for your extensive career.
STUDENT-CENTERED RESEARCH IS KEY
Rigid and traditional teaching methods don't fit the latest technology or e-learning platforms because universities and schools are adapted to individual students. The days when students were required to adhere to tight schedules and restrictive disciplinary standards are over. But what exactly is a student-centered learning experience?
Maybe the most significant change you can expect is that more schools will move from teacher to student. Each student can undertake their training either on campuses or online by selecting their modules and learning modes. This enables students to learn and develop technical and transferable skills actively in taking responsibility for learning.
PUBLIC FUNDS FALLING AS PART OF REVENUE
To remain financially sustainable, universities need to provide the industry with successful resources, including guidance and the delivery of jointly produced curricula. Innovative financing mechanisms such as public-private partnerships and private-equity contributions will also be considered. A strong business philosophy, well-structured processes, and a dedicated IP licensing bureau are required to be effective.
THE LEARNING ENVIRONMENTS ARE DIGITIZED AS NORMAL
Universities need to consider technological technologies and develop plans to adapt to the new emerging developments, including future positions in education such as virtual reality and artificial intelligence (AI), to optimize technology-related productivity gains properly. You should set up new infrastructures and systems to ensure data security and sustainability through partnerships with reputable suppliers.
Although robotics will not replace teachers and traditional lecture halls, within the next 15 years, the world will dramatically change for higher education.